Barbera Project - The Harvest

Fabio Vinciguerra in person tells us of the harvest, his words give the idea of the passion and enthusiasm behind this new project:
Monday October 2nd, 2006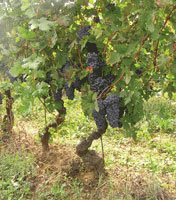 The sky is clear and the air is rather cool. The sun, still extraordinarily warm for this period during the central hours of the day, is rising slowly and begins to dry the dew drops in the vineyards. On a chalkboard inside the winery the values of sugar and ph of the grape samples collected in the different vineyards around the estate have been noted day after day. Next to the name 'Vigna Vecchia' there is an OK and a date: October 2nd.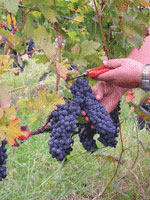 The afternoon before, Borce and his brother Toni, with us since 1996 (year of foundation of our estate and winery) had already passed through the rows of the 'Vigna Vecchia' with the tractor and trailer distributing the baskets which the next day would have finally been filled with the best of Barbera grapes. And from their satisfied looks, after months of hard work, it was evident that the bunches had reached the perfect colour and the ideal level of maturity that they imagined every day spent in that vineyard throughout the year.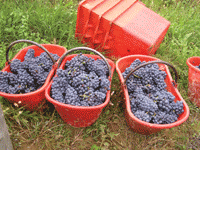 Meanwhile, the harvest continues. The sun rays become warm at first, then hot. The speed is good and the grape that has to be harvested in this vineyard is not much, but in this lies the secret of the incredible quality of this Barbera. We'll be done surely before noon. The tractor returns, loads more baskets and leaves again for the winery. It's noon, and from the last row the baskets filled with the precious Barbera are loaded. A few hours have passed since we started and the result of an entire year of hard labour in the vineyard has come to an end. But the story of these bunches has just begun and, until the day in which a bottle of Barbera d'Asti d.o.c. Superiore 2006 'Vigna Vecchia' will be opened, an infinite series of moments, decisions, feelings and emotions will follow one another.