Valle d'Aosta: mountain vineyards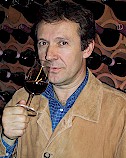 Our expert sommellier for Valle d'Aosta is Moreno Rossin
Moreno is Professional Sommelier and President of A.I.S. for the Valle d'Aosta region. Moreno deals with food and wine consultancy, as well as with numerous national and international assignments for A.I.S..
Do you need more precise info about Valle d'Aosta?
Questions, doubts, clarifications ?
Write Moreno at m.rossin@wineshop.it
It is thought that the wines of Valle d'Aosta were already greatly appreciated in the times of the ancient Romans, even though the first documented evidence of wine cultivation in the region is dated to a decree by the Vicar of Ivrea, obliging the farmers of the Val di Cly to not only take exquisite care of the existing vines, but to plant and cultivate new ones as well.
The terrain of Valle d'Aosta is mostly mountainous, leaving little room for vineyards: it is no coincidence that the region occupies last place in all of Italy for the quantity of wine produced per region.
The wine-makers however, working with a secular patience, were able to carve terraces into the mountainside, and have succeeded in cultivating the vines with great success. Surrounded by dry stone walls that not only contain the terrain, but also provide the function of capturing the rays of the sun, the Valdostani vineyards, wedged into the breathtaking panorama of the Alps, have managed to coax wines of incomparable quality from this rugged land. The most acclaimed example is from the vineyards that produce the D.O.C. Blanc de Morgex et de la Salle, situated at the foot of Monte Bianco between the small villages of La Salle and Morgex at the dizzying height of 1300 meters. This rare white wine is obtained from the autoctono vine Blanc de Morgex, the only Italian grape of this region that survived the fillossera, thanks to its natural isolation.
Click on any zone to discover its wines