Umbria: small vineyards, great wines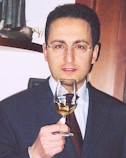 Our sommelier for Umbria is Massimiliano Marzolesi
Massimiliano was born in Foligno and he is resident in Assisi, his passion for wines, particularly those of his region, has led him to attend courses at A.I.S. to become Sommelier. Massimiliano is a Financial Consultant .
Do you need more precise info about Umbria ?
Questions, doubts, clarifications ?
Write Massimiliano at m.marzolesi@wineshop.it
The Etruscans were the first to cultivate wine in Umbria, and the ancient Romans gave a strong contribution as well, but it is certainly the Roman Catholic Church that over the centuries has most appreciated the wine from this region. It is no coincidence therefore that until the Middle Ages the wine from Orvieto was known as "vino dei papi" (The Wine of Popes). A land rich in history and in artistic accomplishments, (who could forget the magnificent hill-top cities of Assisi and Spoleto) Umbria of present day, though the actual zone of vineyards is quite small, occupies an important role in the production of first class wine in Italy, thanks to its particularly favorable terrain and climate. Let's look at the principle zones.
At the center of the region lies the zone of Perugia, the most important in terms of wine production. Here grows the origin of the two Umbrian D.O.C.G. wines, the Torgiano Rosso Riserva and the Montefalco Sagrantino, both taking their name from their village of origin. The first is obtained from the Sangiovese grape in a tiny, extremely hilly zone that benefits from a climate that particularly favors the concentration of sugar in the grape. It is a deep ruby color with a delicate vinous bouquet. The second wine is grown from an autoctono Sagrantino vine of extremely ancient origins, probably imported from Spain. It has a characteristic bouquet that hints of blackberry and an intense ruby color that borders on cranberry.
In the south-east part of the region lies the zone of Terni, and it is here that the legendary "Wine of Popes" is grown: the wine of Orvieto, that takes its name fom the city of its origin. It is interesting to note that this wine was originally quite sweet, since the low temperatures of the wine cellars carved from the tufo (a soft mud-like stone) impeded the complete fermentation process and consequently, increased the naturally high sugar content. This zone also offers the perfect environment for the cultivation of international wines, like Chardonnay, Sauvignon and Pinot Nero. In this ideal location they give the best of themselves and achieve true excellence.
Click on any zone to discover it's wines