Marche: the land of Verdicchio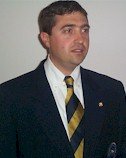 Our sommelier for Marche is Massimo Mangani
Massimo is Professional Sommelier A.I.S. and he is owner of a wine bar in Acqualagna (see his website www.maxwine.it ).
Do you need more precise info about Marche ?
Questions, doubts, clarifications ?
Write Massimo at m.mangani@wineshop.it
In the Marche the cultivation of wine has extremely ancient traditions that can be traced back to the Roman Empire. These traditions have been passed on through the centuries, originating wines appreciated throughout the world. (one of the most famous enthusiasts of Marchian wine was Federico Barbarossa). It's interesting to note that the famous Pinot grape cultivated in France probably has Marchian origins: in fact several ancient fables claim that the grapevines of the Piceno region were transplanted in ancient Gallia (France) by the Romans, hence the name Pinot. Today the Marche are known primarily for the wine that has made the fortune of this region: the Verdicchio, with its characteristically "anfora" (a vase-like jug used for shipping wine) shaped bottle. This auctoctono vine, cultivated in the hills of Castelli di Jesi and Matelica, take the two villages as it's namesake; here we obtain two D.O.C. wines of the region: Verdicchio dei Castelli di Jesi and Verdicchio di Matelica. These vineyards benefit from a particular terrain and climate, and the Verdicchio gives best of itself only in these two spots; elsewhere it loses vigor. The wine is a light wheat color with a characteristic, delicate bouquet and a pleasingly bitter taste that is a wonderful accompaniment to the local fish dishes. But not only the Verdicchio waves the banner of the region. Recently some excellent red wines have come to the attention of wine connoisseurs, such as the D.O.C. Rosso Conero. A wine obtained primarily from the Montepulciano grape, it is a ruby color, dry, with a rich full body and a vinous bouquet.
Click on any zone to discover its wines