Lazio: the mythical Castelli Romani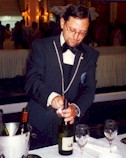 Our sommelier for Lazio is Michele Sessa
Michele is Professional A.I.S. Sommelier, he is graduated in Agricultural Sciences and he works as Agricultural Expert and Agronomist, he is also a passionate photographer
Do you need more precise info about Lazio ?
Questions, doubts, clarifications ?
Write Michele at m.sessa@wineshop.it
Rich in history and witness to several milleniums, the cradle of the Roman Civilization which contributed so much not only to the cultivation of wine, but also distributing it all around the world, Lazio paradoxically does not occupy one of the foremost places in the panorama of Italian wine regions. Even so, there are some notable exceptions where wineries are able to bring forth wines of exceptional quality.
The most important vineyards are without question in the zone of Castelli Romani (Roman Castles). Since the times of the Roman Empire, the hills southwest of Rome have harboured the vacation homes of the inhabitants of the capital. Overflowing with an abundance of stupendous villas, lush parks and gardens, the Castelli Romani have long been associated in the collective imagination with walks through the country just outside the front door, and with a stop in an authentic old-style trattoria, where the host serves the wine directly out of the cask. Even if part of this tradition has ultimately undergone the inevitable degradation brought on by mass tourism, the wines of Castelli Romani continue to be the most popular wines of the region. This applies in particular to the white wines, derived from the Malvasia and Trebbiana grapes, each wine taking it's name from the locality it originates from, for example: Frascati, Marino, and Colli Albani.
Another interesting area of vineyards lies in the province of Viterbo. Here, where the slopes of originally volcanic origin surround the lake Bolsena, a wine by the curious Latin name of Est! Est!! Est!!! di Montefiascone is born. An ancient legend from the 12th century recounts that at one time there was a young man employed by an important priest to go around to all the wine cellars in the region, marking the wine casks with "Est"(it is) to indicate the wines that merited attention. Legend has it that when he arrived in the zone of Montefiascone, he tasted a wine of such excellent quality that in his enthusiasm (or because of the quantity of wine consumed!) he signed the cask three times: Est! Est!! Est!!!
Click on any zone to discover it's wines