Friuli-Venezia Giulia: birthplace of Picolit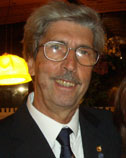 Our sommelier for Friuli-Venezia Giulia is Adriano Bellini
Adriano is Professional A.I.S. Sommelier and Professor of Enology at the I.A.L. in Trieste and Lignano Sabbiadoro. He was among the firsts to get the Master Service A.I.S. , he was born and lives in Trieste and he is involved in consulting .
Do you need more precise info about Friuli-Venezia-Giulia ?
Questions, doubts, clarifications ?
Write Adriano at a.bellini@wineshop.it
The region of Friuli-Venezia Giulia is characterized by a modern, high quality production of wine that was already quite developed by the middle of the last century. It is reknowned, above all, for the production of white wines of excellent quality. Along with the traditional autoctono vines Tocai Friulano, Verduzzo Friulano, Refosco dal Peduncolo Rosso and the rare Picolit, we also find important French and German varieties such as Merlot, Cabernet, Chardonnay, Sauvignon, Traminer Aromatico and Riesling Renano. Let's take a look at the principle vineyards.
West of Udine and north of Gorizia lies the zone of Colli Orientali del Friuli e Collio, where the best wines of the region are produced, primarily white wines, famous for a velvety softness and a delicate bouquet impossible to find anywhere else. It is here we find the wine that made Friuli-Venezia Giulia famous throughout the world: Picolit. Favored by the noble and royal tables across Europe until the middle of the 18th century, it is made from an autoctono vine. Because of a particular natural phenomenon called "acinellatura", only some of the grapes reach full maturation, and these are particularly rich in sugars, creating a dessert wine of exclusive and limited production, a golden wheat color of varying intensity, it has a delicate bouquet, which is refined and pleasing
Between Pordenone and Udine lies plains region of Friuli-Grave. The name is derived from the tipical stones of the area that cover a large part of the territory, locally called "grave". It is an area of little vegetation because of the scarcity of water sources, but where, paradoxically, the grapevines find the environment favorable, hence offering a production of predominantly white wines, limited in quantity, but of excellent quality.
Click on any zone to discover its wines