Emilia Romagna: Lambrusco and San Giovese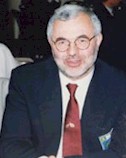 Our sommelier for Emilia Romagna is Guido Penso
Guido is Sommelier A.I.S. and Tour Leader with license from the Emilia Romagna region (see his website www.vinotour.it ) .
Do you need more precise info about Emilia Romagna ?
Questions, doubts, clarifications ?
Write Guido at g.penso@wineshop.it
The extremely ancient tradition of wine-culture in Emilia-Romagna was proven in 1878 by the discovery of a large silver goblet dating back to the Roman Empire. Upon it were carved the words "Gutturnium", the original Latin name for the wine of this region: Gutturnio. Today, Emilia-Romagna is one the largest wine producing regions in Italy: from the hills at the feet of the Appennini mountains to the plains of the Po river and all along the Adriatic coast, the landscape is dominated by vineyards. Here, the tradition of wine and gastronomy enjoy a perfect marriage: good food and good company are the constant daily fare of the inhabitants of Emilia-Romagna. Let's take a look at the principle zones.
Between Piacenza and Bologna lies the zone of Emilia, an area known for the cultivation of the Lambrusco grape. This is an autoctono vine of ancient origins, thought to be derived from the Silvestre vine that grew spontaneously during the time of the ancient Romans. Lambrusco wine is known, curiously as one of the most excellent "young" wines. A naturally sparkling red with a characteristic fruity bouquet, it is an excellent accompaniment to the local prosciuttos and salamis. Also cultivated in this zone are imported vines such as Cabernet Sauvignon and Chardonnay that reach their optimum expression in the hills around Bologna where the climate and terrain are particularly favorable to their production.
Between Bologna and Rimini lies the Romagna zone: intensely cultivated with vineyards, the most commonly grown grape is the red Sangiovese. This zone is also the patria of the first Italian white wine to obtain the status of D.O.C.: Albana di Romagna. It is grown from an autoctono vine of the same name, and is descended from a wine produced by the ancient Romans, it can be dry, amabile, sweet or passito.
Click on any zone to discover its wines