Calabria: the most ancient vine in europe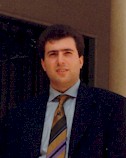 Our sommelier for Calabria is Luigi Monaco
Luigi was born and lives in Crotone, he is Professional Sommelier A.I.S., he is graduated in Economics and runs with his wife Giovanna a wine bar called "Sapori e Sapere" in Via Vittorio Veneto 176 in Crotone, with over 170 wines to taste by the glass.
Do you need more precise info about Calabria ?
Questions, doubts, clarifications ?
Write Luigi at l.monaco@wineshop.it
From Calabria we receive the term "Enotria", The Land of Wine, which is the name the Ancient Greeks gave to Italy. It was the wine Calabrese that was offered to the victors of the Olimpiad, the Greek Olympic Games that took place in Greece every four years. In the ancient port of Sibari, they actually constructed "aqueducts" for the wine to assist in the shipping process, which was then transported in terracotta "anfore" and exported by the Romans throughout all of the known world. Regrettably, due to the destruction caused by the fillossera at the end of the 1800's, little remains of this glorious past. Many vineyards have disappeared and have not been replanted, partially because of the mass emigration of the population in the 1950's.
Recently though, a new effort is being made to cultivate quality vineyards: more and more winemakers are investing in the potential of the ideally suited Calabrian terrain and climate, and especially in regard to the traditional vines, are bringing forth wines of excellent composition. The most important Calabrian wines are the reds, obtained primarily from autoctone vines called "gaglioppo".
The most representative example is the Ciro, a warm, full bodied wine with a delicate, intensely vinous bouquet, named after the village where it is produced.
The white Calabrian wines are made primarily from another autoctono vine: Greco Bianco, that gives the most of itself when the grapes are sun-dried, producing a sweet wine with a high alchoholic content.
Click on any zone to discover its wines